Las Salas de Recurso de la EUIPO, junto con la Academia de la EUIPO y el Departamento de Cooperación Internacional y Asuntos Jurídicos de la EUIPO, están organizando la segunda Conferencia de Mediación de PI, que se celebrará del 30 al 31 de mayo de 2019.
La conferencia tiene lugar en la sede de la EUIPO en Alicante, España donde expertos destacados de instituciones nacionales e internacionales, instituciones académicas y de la propia EUIPO se reúne para tratar una amplia gama de temas en el campo de la mediación de la propiedad intelectual.
En dicha conferencia participan:
President of the Boards of Appeal, EUIPO
Member of the German Federal Parliament (Deutscher Bundestag)
FRANCISCO FONSECA MORILLO
Head of the EU Delegation in Madrid, former Deputy Director-General for DG Justice and Consumers
President, CEPANI, Partner at DMDB Law
Managing Director, CEDR
President of the European Centre for Dispute Resolution (Ljubljana), former Minister of Justice of the Republic of Slovenia
Founder and Chief Executive, SnapDragon Monitoring Ltd
Mediation Case Manager and Scientific Director, MFSD-IP Dispute Resolution Centre and Academy, Milan, Italy
Founder and Chief Executive, Startingbloch
General Counsel Brand & Marketing Properties, Nestlé
OBE., CEO, Anti Copying in Design (ACID) and Vice Chair, the UK Alliance for Intellectual Property
Mediator and Senior Counsel, Partner at Wee, Tay & Lim and Chairman, Singapore International Mediation Centre
Attorney at Law, Allen & Overy LLP
Director at Singapore International Dispute Resolution Academy (SIDRA) and Professor at Singapore Management University
CEng FIET – Head of Mediation Service, UK Intellectual Property Office
Head of the Alternative Dispute Resolution Service in the Boards of Appeal, EUIPO
Deputy Director of the Arbitration and Mediation Center, WIPO
assoc. professor, Head of Mediation and Sustainable Dispute Resolution Laboratory at Mykolas Romeris University (Lithuania), mediator, advocate
SC, Mediator of SCMC, Barrister, Former President of Hong Kong Bar Association
Former Judge at the Court of Appeal, Montréal & Professor at McGill University, Faculty of Law
Professor of Commercial law, Mediation and Conflict Resolution, International Commercial Contracts, University of Florence
Presiding Judge, Regional Court Munich and Mediator
President of Chamber No. 28, Court of Appeal of Madrid, specialised in commercial matters
Vice President of the European Group of Judges for Mediation (GEMME Europe)
Member of the Board at the Czech Arbitration Court
CCBE Vice-Chair of the Future of the Legal Profession and Legal Services Committee, Council of Bars and Law Societies of Europe, CCBE, Brussels and German Bar Certified Specialist Lawyer for IP Law
Judge of N°1 Intellectual Property Division, Shanghai Intellectual Property Court.
Chairperson of the 2nd Board of Appeal and accredited Mediator (CEDR), EUIPO
Head of Innovation, European Patent Office
Professor of Law and Health Sciences, University of Surrey School of Law and Mediator and Arbitrator, JAMS
Chairman , Dispute Resolution Committee, China Trademark Association, President, Beijing eBridgeChina Research Institute
Professor and Director of Laboratory for Decision Support and Dispute Management, Victoria University, Melbourne Australia
Professor of Internet Governance and Regulation at Vrije University (Amsterdam), Counsel, SOLV Lawyers
Solicitor (England & Wales & Ireland), Avocat (Paris) of Gerrish Legal, judge-mediator at Cour Internationale de Médiation et d'Arbitrage
Director of Training and Consultancy, Senior Consultant & Mediator, CEDR
Mediator, CEDR
Mediator, CEDR
Mediator, chartered arbitrator and barrister, CEDR
Chairperson of the 5th Board of Appeal and accredited Mediator (CIArb), EUIPO
President of the Hellenic Mediation & Arbitration Centre (Athens), Senior Partner at PPT Legal, Legal Counsellor of the Association of Public and Private Limited Companies
Deputy Manager at the International Centre for ADR, International Chamber of Commerce
Director International Cooperation and Legal Affairs Departement, EUIPO
Legal Consultant, Gorrissen Federspiel
President of Belgian section of the European Group of Judges for Mediation (GEMME Belgium), Civil Judge in Brussels and Lecturer in negotiation, conciliation and mediation
FRANCISCO FONSECA MORILLO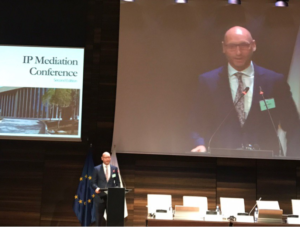 JAMES SOUTH
https://euipo.europa.eu/ohimportal/es/ip-mediation-conference2019
Existe una legislación y Mercado de educadores. Pero No un mercado de casos. Actualmente solo obligatoria en 5 países
Mejoras necesarias:
 ⁃ adjuntar a las demandas justificante de haber intentado Mediación.
 ⁃ Incentivos financieros para las partes
 ⁃ Asegurar la ejecución sin requerir el consentimiento de todas las partes
Ver la directiva europea sobre mediación. Sería necesaria la redacción de un Reglamento. Mediación obligatoria en algunos casos
Aprovechando las recientes elecciones al Parlamento Europeo
Se cree que no es necesario armonizar legalmente porque Renemld aprobado en el año 2000, Tampere: programa de reconocimiento mutuo en asuntos civiles y penales. Solo teórico. No se la implementado en la práctica.
Hay que hacer un crossboard. Co-financiacion con la red judicial europea
Ejemplo. 2.500 empresas familiares en Alemania (como las Pymes españolas). El Fundador jubilado o a punto que creó al empresa tras la segunda GGMM y sus hijos ya mayores siempre dentro de la empresa.
"En más empresas familiares el problema no es la empresa es la familia" intereses contrapuestos
¿Que ocurre con las marcas? ¿Con la propiedad intelectual?
La mediación es ideal para el traspaso generacional y para la gestión de la propiedad intelectual
Otros campos es la política. Tender puentes. Conflictos con la democracia. Soluciones "win win" en las que todo el mundo gana.
Nuestros compañeros D. Carlos Meoro Avilés y Dña. Pilar Alonso Ruiz participan en dichas jornadas con el fin de potenciar su faceta de mediadores en los conflictos inherentes en el campo de la abogacía.